GBFU Perfume Oils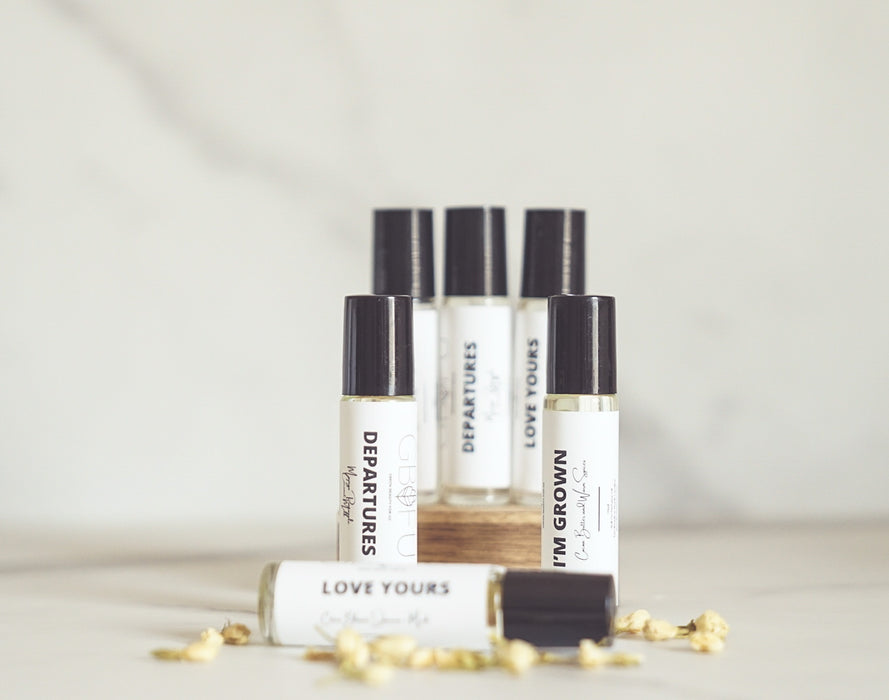 Meet our roll on perfume oils! 
10 ml glass roll on

Made with natural skin nourishing oils and clean ingredient fragrance oils. All of our fragrance oils are always phthalate + paraben free.
PICK YOUR FRAGRANCE 
Departures  | pineapple, orange, mango, peach, coconut milk and sugar
I'm Grown | amber, coconut, jasmine, coco butter, cedar wood and musk
Love Yours | mandarin, orange blossom, magnolia, heliotrope, pink jasmine, amber, and musk.
Oshun Energy  | ozone, orange, sea salt, freesia, green leaves, tonka bean, light musk and amber
Gilded Santal  | cardamom, ginger, amber, cedar, sandalwood, coconut
how to use:
apply to pulse points (wrist + neck)
store your roll on out of direct sun exposure
ingredients sweet almond oil, vitamin e oil, fragrance oil 
I'm Grown is a Must!!!
This is my second bottle of the "I'm Grown" scent and I will continue to buy when I run out. I smell so delicious, grown and sexy. Not only do I rub it on my body but I pass a little bit in my locs also. When I tell you compliments non-stop.
I love it
I've been wearing it everyday and it last a long time if you don't use it while working out lol. I just reapply and keep going. I love tropical scents, it reminds me of being on the beach in hawaii. I will repurchase and try other scents too. It's also not over powering and fits nicely with my body chemistry.